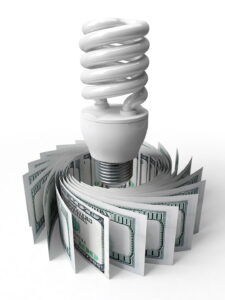 If your business or facility still uses standard lighting (incandescent and fluorescent light bulbs), you may have considered making an upgrade with a full LED lighting retrofit. We encourage you to take the step to make this change: LED lighting offers enormous benefits for any building or facility, and our team can make the job straightforward with a successful outcome.
The Advantages of LED Lights
LED stands for light-emitting diode. These lights do not generate illumination by running electricity through a filament, but instead send the electricity through a semiconducting diode that then emits light. This might not sound like a significant change, but the benefits of using these lights instead of standard bulbs are significant:
Longer life: The standard incandescent bulb can last for up to 2,000 hours, and many will burn out long before that. Because LED lights consume less power to run, they can last for much longer: the average lifespan range is 35,000 to 50,000 hours. Yes, LED lights are more expensive to purchase upfront, but their longevity alone makes them a better option.
Energy savings: Here's another way LED lights can pay back their installation cost. LED lights lose much less energy to heat the way that incandescent lights do, instead efficiently converting 75% of their electrical power into luminescence, where other light bulbs may only convert 40%. To use the smaller example of a house, replacing all the bulbs in a standard home with LED lights can save $300 a year. Now think of what this can mean for a business and you'll start to see how much these lights can save over their (much longer) service lives.
Less heat: Do you want to use your HVAC system to help cool down your business because of the extra heat coming from the lights? Of course not, but that's what you're doing when you have mostly incandescent bulbs because of the heat they emit. LED bulbs give off far less heat because they convert more electricity into light rather than lose it to heat.
Brightness: LED lights do not sacrifice on their brightness and intensity compared to other lights. Their light output is much higher than their wattage would suggest, and they also have a wider range of colors
Better temperature range: LED lights function in a better number of commercial environments than other bulbs. They can handle colder temperatures and remain reliable.
Lower environmental impact: The longevity of LED lights means far fewer of them are getting sent into landfills. They also don't have any toxic components that can seep into the ground.
We handle LED upgrades in Hillside, IL and the rest of Chicagoland, as well as all other types of commercial electrical services. We aren't here only to provide repairs—we are in the business of finding solutions and forging long-term partnerships with our clients. We offer true 24-hour service (live dispatching) and a 100% satisfaction guarantee. Just hand it off to Althoff!
Rely on Althoff Industries, Inc. for all your commercial needs in Chicagoland. Challenges accepted!