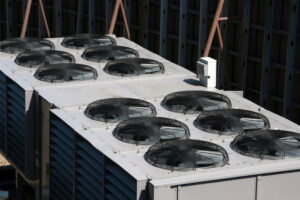 Packaged rooftop HVAC units are the basis of most heating and cooling systems in commercial buildings, from small businesses to major high-rises. Handling the installation and replacement of rooftop units in Chicago, IL is a big part of what we do, and we want to make sure that our customers receive the best service possible.
However, there are ongoing disruptions in the global supply chain that have created difficulties for contractors to maintain current supplies of important equipment such as commercial/industrial rooftop units. Although the COVID-19 pandemic has waned in the US, it's still prevalent in many other countries that are part of the supply chain. The recent Russian invasion of Ukraine and the continuing war in Eastern Europe has further worsened the supply chain issue.
The upshot of all this is that we're currently experiencing a delay with installations for rooftop units. The delay for installing these units can be from 12 to 30 weeks. We'll do all we can to accommodate our customers, but we recommend that businesses plan ahead and assess their needs on a longer timeline.