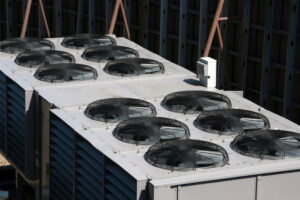 Packaged rooftop HVAC units are the basis of most heating and cooling systems in commercial buildings, from small businesses to major high-rises. Handling the installation and replacement of rooftop units in Chicago, IL is a big part of what we do, and we want to make sure that our customers receive the best service possible.
However, there are ongoing disruptions in the global supply chain that have created difficulties for contractors to maintain current supplies of important equipment such as commercial/industrial rooftop units. Although the COVID-19 pandemic has waned in the US, it's still prevalent in many other countries that are part of the supply chain. The recent Russian invasion of Ukraine and the continuing war in Eastern Europe has further worsened the supply chain issue.
The upshot of all this is that we're currently experiencing a delay with installations for rooftop units. The delay for installing these units can be from 12 to 30 weeks. We'll do all we can to accommodate our customers, but we recommend that businesses plan ahead and assess their needs on a longer timeline.
When Will You Need Rooftop Units Installed?
We often talk to clients about how to tell they have failing HVAC systems so they can have them quickly replaced. Right now, it's best to evaluate the longer-term performance of your rooftop units to anticipate whether you'll want to replace them in 12 to 30 weeks—and this means looking forward to considerations about colder weather in fall.
We also recommend you think about possible business expansions and opening up new locations. If this is on the horizon, plan accordingly for the HVAC needs on a longer timeline. Our technicians are happy to help you with this planning, which will not only help you avoid delays in the future, but will see that you have the right type of system for your expansion or new facility.
What About Repairs and Maintenance?
The supply chain issues have also affected the ability to obtain some parts that may be necessary for repairs to rooftop units, although it is not as urgent an issue. The larger the repair, the more likely there will be an equipment delay. We advise that you move fast to contact us for repair needs when you notice potential problems with your equipment. The earlier we catch problems, the easier they'll be to fix with the parts and supplies we have on hand.
Please schedule maintenance for the coming season as soon as you can. Maintenance is when our technicians will often spot potential repair problems as well as detect if a rooftop unit is starting to decline and need replacement in the near future. Maintenance is essential for your future planning, so it's more important now than ever.
We're Here to Serve You
Our motto is "Challenges Accepted!", and the supply chain concerns certainly pose a challenge. We are here to provide the best possible service to our clients, and you can rely on us to help you through whatever work your commercial or industrial facility needs. With some extra planning and close work with our team, you'll make it through the challenges ahead.
Schedule ahead of time for your rooftop unit needs with Althoff Industries, Inc. Challenges Accepted!