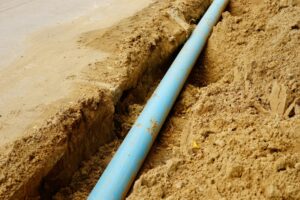 Pipelining—the plumbing term, not the computing term—is a way to repair or replace broken and aging pipes. Rather than removing damaged sections of a pipe, pipelining does the repairs from the inside of the pipe, creating a new pipe (the "lining") within the older part and sealing along it to close off leaks and create a new, stronger pipe. Pipelining can repair small sections, or it can line the entire length of a pipe to effectively replace it with a new one.
When it comes to pipelining in Chicago, IL, you can find various commercial contractors who will do the job of fixing your commercial pipes. But at Althoff Industries, we have several advantages that make us a top-notch choice. For starters, we have more than 60 years of history serving businesses of all sizes and types in Chicagoland. We understand what businesses need when it comes to plumbing. We're family-owned and operated and provide true 24-hour service. We aren't here just to fix problems—we are here to offer solutions.
But it goes farther than that. We use the best available technology for all jobs. When it comes to pipelining, we use NuFlow technology.
NuFlow Technology
So what is NuFlow technology? It's a type of trenchless technology for pipelining as well as many other types of plumbing needs. Trenchless technology removes the need to dig in order to reach pipes for repairs and replacements. We won't need to tear open your commercial property for days at a time to fix underground pipes. With trenchless technology, we can approach pipelining laterally, completing the work faster and without creating any major disruptions to your business.
There are many types of trenchless technology systems, but we've chosen NuFlow technology for our work. NuFlow was founded in 1998, and it has a number of benefits compared to other trenchless systems.
NuFlow can handle multiple bends in pipes, where other trenchless systems can only take on straightaways.
NuFlow relining works on a wide range of different types of piping materials, more than other systems.
The inflatable bladder used in NuFlow can match the exact specifications of a pipe, which includes junctions and bends.
NuFlow uses a special epoxy coating that provides a longer-lasting piping solution.
NuFlow is environmentally friendly technology.
NuFlow pipelining has many different commercial uses. Here are only a few of the jobs we can complete using NuFlow:
Fixing cracked sewer pipes and storm drainage pipes.
Repairing internal fire or water systems inside offices. 
Repairing water mains.
All types of commercial/municipal/government building needs.
Once we have completed a pipelining job for you, we'll use our special CCTV video camera equipment to inspect the interior of the pipes and check that the job was done correctly and thoroughly.
All of this is part of Althoff's goal of engineering better ways to do jobs—and we feel that NuFlow is the best way to handle pipelining jobs for our customers. If you have any questions or wish to schedule service with us, talk to one of our team members today.
For the best in pipelining and all other commercial plumbing services in Chicagoland, call on Althoff Industries, Inc. Challenges Accepted!