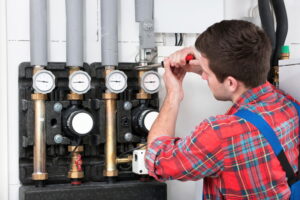 In the middle of a Chicago winter, you depend heavily on the heating system for your commercial property. Even a small interruption in the heater's operation can mean significant revenue loss from downtime. Acting fast is the key to mitigating these problems, so let's look at how you can tell it's time to schedule professional service for your commercial heating system.
In the fall
In other words, regular commercial heating maintenance. This is the most important service you can have done for your business' HVAC system: it includes an inspection and tune-up that will ensure the heater works in peak condition for the coming season. Keeping up with regular maintenance prevents the majority of future repair needs and stops a steady decline in energy efficiency. It also helps equipment last for as long as possible. Although we recommend heating maintenance in the fall, your facility may need a more frequent maintenance schedule. Please work with our technicians to find the ideal maintenance program for your needs.
When monthly energy bills skyrocket
We imagine that you keep a close watch on the expenses for your business, whether you handle it directly or you have a department that provides you with regular reports. Pay attention to sudden spikes in energy bills that might be connected to your heating system. Malfunctions in heaters usually create an increase in energy consumption even if there are no other outward signs (yet) of the problem.
If this rise in the cost to operate a heating system is coming from a heater that is more than 15 years old, the problem is less likely a specific repair issue and more likely to be the system aging toward obsolescence. We recommend looking into a replacement service rather repairs. Our technicians will help you make the decision.
When the equipment becomes noisy
The amount of noise your HVAC equipment generates may be difficult to notice depending on the type of facility you run. A heater making loud clicking noises may not get over the sound of manufacturing equipment. But for many businesses, a heater that's making greater noise than usual is a serious nuisance and warning that something much worse might be occurring. Don't try to "deal with" the new noise. Call commercial HVAC professionals right away to investigate and resolve the problem.
When the equipment smells odd
Strange smells are like strange noises: you'll know them when they occur, although you may not understand what they mean. One smell that may enter into the workspace through vents is a rotten egg odor, and this is a huge warning of gas leaks from a natural gas-powered system. You may also detect a moldy odor, which can come from mold and mildew growth inside of a packaged HVAC unit that has condensate drainage issues. Both situations are serious for different reasons, so don't hesitate to get professionals on the job. 
When it comes to commercial HVAC in Naperville, IL and throughout Chicagoland, Althoff is the contractor you can trust. We've served the area since 1962 and we understand how to handle commercial heating services of all sizes and types.
Contact Althoff Industries, Inc. to handle all your commercial HVAC needs in Chicagoland. We offer 24/7 service. Challenges Accepted!