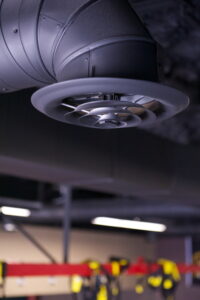 Any commercial building or space requires the right type of ventilation. For some spaces, this can be as simple as ensuring fresh air can enter and stale air escape so the interior retains the proper air pressure. But when it comes to commercial kitchens, ventilation becomes more complicated as well as more vital.
Althoff Industries works with commercial kitchen exhaust systems in Elk Grove Village, IL and throughout Chicagoland, and we understand all about the special challenges that come with proper ventilation for this space. It takes much more than a conventional HVAC system. There are several specific challenges involved in proper kitchen ventilation:
Temperature and air quality control
This is the "standard" purpose of ventilation in almost any space, and is not much different from the goal of the HVAC system found in a home or in an office. However, a commercial kitchen raises the stakes for both temperature and air quality. A kitchen can easily overheat and become an intolerable environment for anyone inside it. Kitchens also produce more types of exhaust that create air quality concerns, such as steam, smoke, odors, and grease. 
Odor control
Although people like to think of the odors from cooking as pleasant ones, allowing the commingling mass of odors from a commercial kitchen to reach other areas of the establishment, such as the dining area, will make for an environment that's quite unpleasant. Commercial kitchen ventilation must be correctly set up so that odors only go through the exhaust system and don't escape elsewhere.
Energy efficiency
A poorly designed commercial kitchen ventilation system will allow too much heating or cooling energy to escape through the exhaust system. The heating and cooling systems that work to provide proper temperature balance inside the space may end up going "up in smoke" through the exhaust system and require extra work from the AC or heater to replace it. Correct ventilation design reduces the amount of conditioned air that gets lost to the exhaust system and improves energy efficiency.
Keeping the ventilation system clean
A large amount of contaminants exit through the exhaust of a commercial kitchen, and unless the ventilation system is properly designed, many of these contaminants will remain in the system and interfere with components such as fans, hoods, ductwork, and grills. Grease is one of the biggest problems any commercial kitchen faces, and proper filtration is necessary to prevent grease from quickly ruining ventilation equipment. 
Each of these challenges requires its own approach, and Althoff Industries knows how to solve all of them. Whether you're opening a new establishment and need the first kitchen ventilation system installed or your older system isn't doing the job and you want it repaired or fully retrofitted, we'll rise to the challenge. We can repair and seal older ductwork, install grease vents and other types of specialized filters, add a "demand" ventilation system that runs based on sensing indoor conditions, improve air balance, and more.
Althoff Industries, Inc. is Chicago's choice since 1961. Call us today for all your commercial ventilation needs—including kitchens. Challenges Accepted!