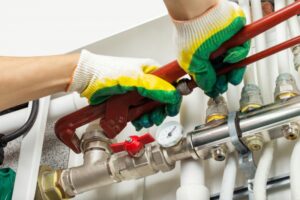 Process piping may sound like it's simply another part of a plumbing system, but it's quite different. The plumbing in a building, such as a commercial facility, is used to transport both water and waste and usually connects to municipal systems such as the freshwater supply and the sewer system. Process piping consists of the pipes that connect to processing machines, such as the machines used in commercial and industrial facilities: chemical plants, oil refineries, power plants, pharmaceutical plants, food processing plants, manufacturing or chemical plants, etc.
The short version of this is that process pipes are used to facilitate process, i.e. the actual business of a manufacturing plant, chemical plant, food processing plant, etc.
Because process piping must transport a wide range of gases and fluids other than water, they have special requirements for materials, size, and engineering.
A Vital Difference Between Process Piping and Plumbing
If you're looking for process piping in Chicago, IL or elsewhere in the Chicagoland area, you can't simply call up any commercial plumbing contractor. Not all commercial plumbers work with process piping, since there's a difference between the two.
The main difference between them comes down to building codes. To have a plumbing system installed for a business, you have to comply with the plumbing code. It's not as straightforward with process plumbing: a facility has to comply with engineers codes, and these apply to each of the pipes. State laws determine which type of materials are required for different processes.
The Characteristics of Process Piping
To help you better understand the requirements of process piping and why you need to have specially trained experts handle service for them, here are some important characteristics of process piping:
Material compatibility: Process pipes can be built from many types of metals, plastics, and composites (copper, carbon steel, PVC), but they must be capable of handling the fluids they transport and hold up under the environmental conditions of the facility.
Pressure and Temperature: Standard plumbing at most has to deal with high temperature water. Process piping needs to handle a range of pressure and temperature conditions, which determines the necessary type of piping material and its thickness.
Valves and Fittings: Valves control flow rate, direction, and pressure. Fittings connect together sections of the piping.
Compliance With Safety and Regulation Requirements: Safety and other regulations for process are primary concerns with process piping. These requirements protect employees, the environment, and the community.
Layout and Routing: To ensure efficiency, process piping layout and routing must be planned carefully. Poor layout can mean pressure drops, clogging, cross-contamination, and other problems.
Support and Anchoring: Structural failure can occur in process piping if it isn't given proper support and anchoring to stop excess stress. Installing process pipes includes creating structures that ensure stability.
We Have the Process Plumbers You Need
We've served the needs of Chicagoland businesses since 1960, and we have a team of experts at handling process piping for multiple industries, such as chemical manufacturing and food processing. You can depend on us for installation, repairs, and replacements.
Rely on Althoff Industries, Inc. for all your commercial and industrial plumbing needs. Challenges Accepted!