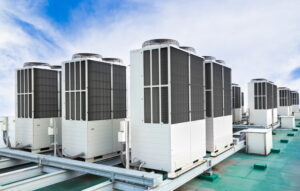 Warm weather is on the way, and although it may still seem like a long stretch before summer, we strongly recommend that you don't delay when it comes to arranging for your commercial air conditioning maintenance in Chicago, IL. The sooner you reach out to us to schedule this service, the easier it will be to get you a convenient appointment.
Why Commercial AC Maintenance Is an Essential Service
Regular HVAC maintenance is one of the most important services we offer. Here's why we recommend you have a program in place so you'll have your air conditioning maintenance done each year.
Extends equipment life
The cooling systems in your facility account for a significant financial investment, so you'll want to get the most years of quality service out of them. Regular maintenance is vital for any piece of HVAC equipment to reach its manufacturer's estimated service life. Lack of maintenance will cause equipment to age faster and need to be retired years too early.
Prevents breakdowns and service interruptions
The most immediate usefulness of commercial air conditioning maintenance is to prevent equipment failure during the coming season. Loss of cooling in a building can have a significant impact on your business, no matter how fast you can get repair technicians on the job. Maintenance will catch most potential cooling system problems early, and the cleanings and adjustments make it unlikely more trouble will start in the coming months.
Maintains energy efficiency
Consider how much work your commercial cooling equipment does throughout the year (especially if your facility requires cooling even outside of the summer heat). All that wear and tear will cause the equipment to lose energy efficiency, usually around 5% yearly. When you consider the cost of running your cooling equipment, that increase can add up to a hefty amount—and it will worsen each year. Staying current with maintenance will keep HVAC equipment efficiency high, losing only 5% efficiency over most of a unit's service life.
Improves indoor air quality
Poor indoor air quality inside a commercial facility can come from various sources, and one of the most common is lack of maintenance on HVAC equipment. Without proper ventilation and air circulation, the air inside a building will become stagnant, too humid/too dry, and dusty. Bad ventilation can also lead to negative air pressure in a building, which impairs general energy efficiency in a facility. Maintenance takes care of the equipment so it won't needlessly create IAQ issues.
Maintains manufacturer warranties
The manufacturer warranties that come with most commercial air conditioning systems require that the equipment receives regular professional maintenance to remain valid. You don't want to lose this important consumer protection (especially since 2% of HVAC equipment leaves the factory with some type of flaw), and routine maintenance will help ensure your air conditioning equipment remains covered by the warranty. Our technicians always perform maintenance that meets the warranty requirements. 
Althoff Industries, Inc. has served Chicagoland since 1962. Call us today to arrange for spring HVAC maintenance. Challenges Accepted!