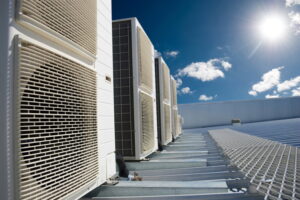 Air conditioning systems for commercial facilities have larger functions than those for residential buildings. For example, commercial cooling often works year-round since a building may need specific climate controls to protect equipment and to allow for certain processes. No matter the job of a commercial AC system, it needs to run reliably in peak condition to protect operations.
This makes it imperative if you're a business owner or operator to have the best contractor for your commercial AC in Naperville, IL, and throughout Chicagoland. You want to choose carefully and do your research. What should you look for?
Licensing and Insurance
One of the first things to check with any contractor is if they have licensing and insurance. This is the basis for being considered a professional contractor. It means meeting requirements and regulations and sticking to them. Insurance is important for you as a consumer since it protects you from being liable in case of damage or injury on the worksite. Ask for proof of both with any contractor you are considering working with.
Experience and Expertise
Although it's possible for a new contractor to have the skill for commercial HVAC jobs (especially if the business was built out of earlier ones), a company with a long history is often a better choice, one with a proven track record. We've been serving Chicagoland since 1961, and have a hefty portfolio of satisfied clients in our decades in business. We also have immense experience, as we work with all types of commercial and industrial services, including many you won't find at other contractors. That's experience and expertise at the highest level.
Emergency Service
Businesses rarely have much downtime, and when emergency AC problems strike (especially during the summer), it requires a fast response from an HVAC contractor. Do you want to wait for business hours to start on Monday when you've got an emergency with a busted AC in your retail store on Saturday? Of course not, so look for a contractor who offers 24-hour emergency service—which we do!
Innovation and Customer Service
It may sound appealing that a contractor does everything "by the book." This is actually a limitation! Technologies change constantly and every business is different. You want a contractor who innovates, someone who offers solutions and not just a patch-up job. Also look for contractors who are looking to create genuine long-term relationships with their clients by offering customer service that says, "Hey, we want you to come back."
Satisfaction Guarantees
A contractor worth hiring is one that stands behind the work of all their technicians and other team members. A contractor who knows they can get jobs done right the first time. These are the companies that will back up all their services with a satisfaction guarantee. And that's what we offer: a 100% satisfaction guarantee and a promise that we will step outside of policy to care for customers within reasonable expectations.
You're on our website, so of course we'll recommend you work with us when it comes to your commercial cooling needs. However, we know we're one the best options available—and we promise to come through for you.