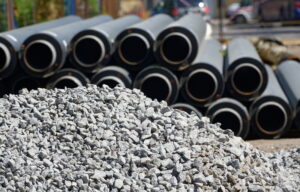 Plumbing problems for a commercial facility can be standard annoyances, such as clogged drains or problems with low water pressure (often a problem in high-rises). You'll need professional commercial plumbers to handle these repairs, but they're straightforward and you won't have to worry about disruption or damage to your property.
But what about dealing with issues like leaking pipes within the concrete structure of your facility, or having to replace worn-down older underground pipes? The repairs can require extensive excavation and the breaking up of concrete slabs. This kind of work is extremely disruptive to a commercial operation, not to mention expensive and messy. 
There is a way to solve this dilemma, which is pipe and drain lining. Not all commercial plumbers can offer this more efficient and cost-effective approach, but Althoff is proud to offer pipe and drain lining in Chicago, IL and throughout Chicagoland. We help you solve problems, not create new ones!
What Is Pipe and Drain Lining?
It's a type of trenchless technology that removes the need for disruption to existing structures, such as concrete flooring, to allow for repairs, restoration, and even full replacement of underground pipes. The short description of pipe lining is that plumbers approach the damaged line laterally, rather than excavating to reach it, and seal the pipe from the inside using a liner.
The procedure is called cured-in-place pipe lining, or CIPP lining. A liner tube saturated with liquid resin or epoxy is drawn through a pipe line or drain using a hydraulic system. The epoxy cures in place and adheres to the interior of the pipe, essentially creating a new pipe in place of the aging or damaged older one. The procedure usually requires no digging.
Benefits of Pipe Lining Technology
Compared to older excavation methods, CIPP lining is a game-changer for handling work on underground pipes, particularly for businesses:
The process is cost-effective, saving you money on landscaping, construction, and labor costs.
CIPP lining is fast, with jobs completed in only a fraction of the time compared to excavation methods.
It eliminates the possibility of damage to your building—walkways, floors, walls, landscaping—that not only removes unsightly damage and clean-up needs, but helps to keep the building safe.
You don't have to deal with large, unattractive digging equipment parked on your property for several days.
NuFlow Technology
At Althoff, we're proud to use the best in CIPP lining technology: NuFlow, which offers even more benefits than other types of pipe lining. Here are a few of the advantages of using NuFlow for pipe and drain lining:
It's capable of placing a line around multiple bends in a pipe, where other CIPP methods can only handle straight pipe runs.
It works with a wide range of piping materials.
The special NuFlow epoxy coating creates a longer-lasting piping solution than other methods.
The "sleeve-within-a-sleeve" places the liner with an internal bladder to fix damaged pipes.
To find out more about how we can deliver plumbing solutions for your business, talk to our team today.
Contact Althoff Industries, Inc. to arrange for pipe and drain lining—or any other commercial or industrial plumbing job in Chicagoland. Challenges Accepted!