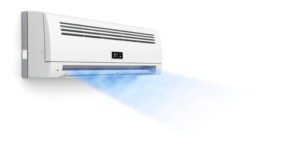 Sometimes it's difficult for business owners to imagine running any type of company, facility, or establishment in a building without ductwork. In fact, exposed ducts have become one of the standard design looks for many types of commercial buildings.
The development of advanced, energy-efficient ductless HVAC systems (also known as ductless mini split systems or ductless mini split heat pumps) has created a new paradigm for commercial heating and cooling. A ductless system still has parts in common with standard commercial heat pumps and ACs, such as an outdoor compressor (often housed up on the roof of the building). But instead of using a massive blower to push air from the compressor into the building's ductwork, the compressor attaches to a series of smaller air handlers placed in zones around the facility, each capable of conditioning the air with the refrigerant sent from the compressor and blowing it directly into the zones.
How can this type of system benefit a business? Much of it depends on the business, and not all will find ductless HVAC beneficial. We'll go over the main advantages of commercial ductless systems to help you understand how you might use one for your commercial heating and commercial air conditioning in Elk Grove Village, IL.
Flexibility
You don't need a ductless HVAC system as a full replacement for your current ducted system. You can purchase a single-zone system just to cool or warm a large open area or to target a place in your building that's hard to heat or cool with a standard HVAC system. You can choose a multi-zone system with multiple air handlers working from one compressor.
Zone heating and cooling
The indoor air handlers work separately from each other, so you can change the temperature in different zones without affecting any of the others. Thanks to variable flow refrigerant, each of the air handlers can work at different temperature levels from the rest.
No ducts means no duct troubles
Using a ductless HVAC system exclusively for a building means removing all the troubles that ductwork can cause. Ducts are a source of heat loss and heat gain through their walls, which harms their energy efficiency. They also collect dust, lint, and other debris that will continue to circulate around the building and lower indoor air quality. Finally, ducts require occasional repairs and cleanings. You won't have to worry about these maintenance jobs with a ductless system.
Energy savings
Ductless HVAC systems have smaller motors than standard ducted systems, so they use less power to run. Couple this with the benefits of zone cooling (you don't have to run all the units at the same time) and the lack of energy loss through duct walls, and a ductless HVAC system can save you up to 30% off heating and cooling costs.
As mentioned before, ductless isn't ideal for all facilities. Some people don't like the appearance of the wall units in rooms. For buildings with pre-existing ductwork, a ductless HVAC system is best for limited uses such as targeting certain rooms rather than as a complete overhaul.
If you want to know more about using ductless HVAC in commercial applications, reach out to Althoff Industries, Inc. Challenges Accepted!