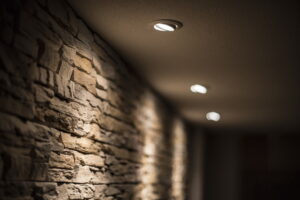 Lighting is essential for any type of industrial or commercial facility, but it is also a part of these facilities that owners and managers can easily overlook when they are considering important upgrades and expansions. Quality lighting increases productivity, helps appeal to customers in retail spaces, lowers energy costs, and allows for more flexibility for business growth.
If you're wondering whether your business needs to have new interior or exterior lighting, we've listed several ways to tell. When in doubt, you can consult with us about what changes you may need.
ONE: You have outdated types of lighting
And when we say "outdated," we primarily mean "fluorescent." Older lighting like this drains more power and contains mercury, which is toxic and environmentally harmful. Fluorescent lights also create an unpleasantly flat look that isn't welcoming. A retrofit to remove fluorescent lights and replace them with LED and CFL lights will benefit your facility in several ways.
TWO: Your business needs change regularly
If you run a facility that frequently changes its processes, or you have regular overturn in tenants, you'll benefit from a lighting system that is also flexible and can adapt to changing needs. Our commercial and industrial electricians know how to create new lighting designs that can keep up with changes in your facility.
THREE: Electrical bills are cutting chunks into your budget
Lighting may account for the largest use of electricity in your facility—and it probably does. Making a significant lighting upgrade or retrofit to your facility is one of the quickest ways to drastically reduce your electrical budget and help you save on overhead.
FOUR: Maintenance costs are high
Outdated lighting needs more maintenance. More time changing out bulbs and dealing with outages. This not only costs money, but it also costs time. The right upgrade will lower how much you spend on maintenance and will help operations run smoother. 
FIVE: Frequent outages
If you're dealing with more and more lights burning out, you may have a lighting design that isn't current with the rest of the facility's electrical system. A lighting retrofit can not only bring the lighting up to date but make it able to keep up with future changes.
Keep rebates and incentives in mind
This isn't a sign you need a lighting upgrade, but it's a good reason to make the leap. There are federal and state incentives for renewable and high-efficiency installations, such as LED and CFL lighting. While we're here, we'll recommend looking into solar energy to power your lighting, which is one of the best upgrades to make and you can take advantage of state incentives.
Leave the work to Althoff!
So you think it's time to upgrade your business' lighting. What's the next step? It's easy: hand it off to Althoff. We offer full commercial and industrial electrical service in Chicago, IL that can handle everything from retrofitting your indoor lights to full electrical service upgrades. When you work with us, you'll see why we've been Chicago's choice since 1961.
Call Althoff Industries, Inc. today to schedule service or request an estimate. Challenges Accepted!