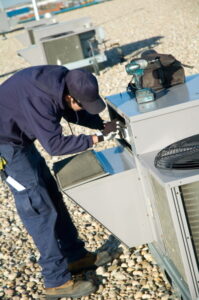 Losing any amount of heating capacity in your commercial facility during a Chicago winter can have an enormously negative impact on operations and your bottom line. Whether you have a retail store or a manufacturing plant, losing heat can bring work and business to a standstill.
Fortunately, most commercial heating equipment is modular, and unless there's a power outage, you're unlikely to experience a full heating loss for your facility when one of the heaters fails. If you have a building automation system (which we install and service), you'll receive warnings about equipment losing efficiency so you can identify a need to call for service or even a new commercial heating installation in Chicago, IL.
Using building automation isn't the only way to notice heating equipment that's headed toward failure. Below are several ways to detect trouble so you can have replacements done before the facility loses some of its heating.
Uneven heating
The modular design of commercial heating systems (using rooftop units) makes it harder to detect one part starting to fail, but one noticeable sign is uneven heating in the facility. Temperature fluctuations, certain areas are colder than others … these often point toward one of the heating units failing.
Unexpected increase in utility bills
You keep a close watch on the bills for your business, so if heating costs rise far higher than you expect, it's something to investigate. This can be from a malfunctioning heater that's draining more power, but another contributing factor is that the rest of the modular heating system will start to work harder to compensate for the loss of heating capacity of the failing unit. This warrants calling our professionals to inspect the equipment and pinpoint the faults.
Strange noises or too much noise
This can be tricky to determine if most of the heating equipment is located up on the roof. You may hear the noises coming through the vents, however—and if you can hear them through the vents, that means they're loud. Heating equipment that's clanging, screeching, and rattling is likely on its way out.
Poor indoor air quality
Yes, commercial heating equipment that's starting to fail can cause indoor air quality issues in a facility. Air can become too dry or too dusty. Poorer air circulation can make areas in the facility feel stuffy. If people are complaining about the air in the business, contact our commercial HVAC professionals to investigate.
The equipment is too old
Do you know how long you've had your current set of heating systems? We know it's easy to forget about them, but it's important to know how close any of the HVAC units are to the estimated end of their lifecycle. For example, the life expectancy of a rooftop HVAC unit, the kind most businesses in Chicago use for heating, is about 15 years. We recommend replacing units over their life cycle estimate, even if they seem to be working well because you'll be able to avoid a far more expensive or more catastrophic issue in the near future.
Althoff Industries, Inc. specializes in solving problems. Call us today for commercial HVAC service: Challenges accepted!