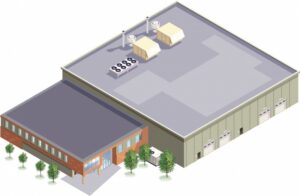 We stay at the cutting edge of technology for commercial buildings. It's one of the ways we're able to offer solutions for customers rather than just quick fixes. We help our customers take a proactive approach to their facilities. Few building upgrades can do more in this regard than building automation systems (BAS).
We install and service building automation and control systems in Hillside, IL, and throughout the Chicagoland area. We've seen how beneficial these automated controls can be for our customers. The proper BAS for your facility creates seamless operation between multiple systems, and our team understands how best to integrate and maximize building automation so you receive the biggest benefits. 
Below we're going to look at a few of the major benefits of BAS for a commercial facility.
Better Energy Efficiency
Building automation aims toward creating better integration of multiple systems so they work together at the highest possible efficiency. This will lower general operating costs for a facility as it reduces the amount of energy waste that occurs when systems aren't optimized or they suffer from human error. This energy efficiency also creates a more sustainable building with a reduced environmental impact.
Increased Performance
The control over the entire facility that a building automation system provides means better performance from all the different systems it controls. This includes the HVAC system, lighting, security, detection devices, and more. You'll know that your facility is working to the best of its ability with the right BAS at the controls.
Reduced Maintenance & Repairs
Because a BAS lowers energy use while improving performance throughout a facility, it lowers the stress on the component parts. You won't need to schedule as many repairs for lights, heating, ventilation, air conditioning, etc. because the BAS has made all their jobs easier. Expect to get more years of service from all parts of your building!
Higher Value
Building automation systems are becoming more common for commercial properties to the point that people now expect them for newer buildings. You can significantly increase the value of your facility and the property when you make upgrades to a BAS. Potential buyers will place a higher price on a facility with the best technology at work in it.
Tools for Monitoring Progress
BAS don't just operate in the background: they can create reports on progress in energy savings and efficiency so you know where your facility is making improvements. These reports also help you to identify areas that need repairs or upgrades. You can remove much of the guesswork from questions about how well your facility is working toward goals such as sustainability and efficiency.
Safety and Security
Building automation systems often handle security monitoring and access, which helps to create greater security. BAS also monitors devices that can turn into safety hazards if they malfunction and alert you early to prevent danger.
There are more benefits along with these, and our team is happy to tell you about them. We have a 60-year track record with commercial clients and are licensed, bonded, and insured.
Althoff Industries, Inc. provides complete building automation and control solutions. Call us today to find out more: Challenges accepted!