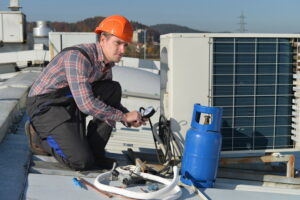 Welcome to September! We can look forward to cooler temperatures coming up (although we'll still have some scorcher days left) as we move into the fall. But this milder weather is also an early warning that winter is not far behind. It's time to consider the maintenance for your commercial heating system in Hillside, IL.
Commercial HVAC systems require extensive maintenance during the year, often on a special schedule depending on the type of facility, the HVAC equipment, and the frequency of use. But all commercial facilities will at least need fall maintenance for their heating systems. We'll explain more below.
Why Routine Commercial Heating Maintenance Is Vital
We have to emphasize that heating maintenance is an annual necessity. The risks of neglecting the equipment are far too high, and the benefits of keeping up with regular tune-ups and adjustments are enormous. Below we've listed the benefits of maintenance, as well as the consequences of missing it.
If you keep up with maintenance…
You can depend on reliable performance from your heating system. Whether the heating equipment is necessary for keeping customers, clients, employees, etc. comfortable or to maintain a temperature to protect equipment and processes, you'll have few moments of downtime from the heater.
The heating system will save you money on operating costs. Well-maintained rooftop units and commercial furnaces and boilers have superior energy efficiency, keeping your daily costs down.
You'll have safer equipment. Technicians make special safety inspections during maintenance to ensure equipment (especially gas and propane-powered ones) operate within safety parameters.
The equipment will last longer, often exceeding its manufacturer's estimated service life.
You'll encounter far fewer repair needs. On average, more than half the repairs a heating system may require can be avoided thanks to maintenance. Maintenance not only removes the strain on equipment that leads to malfunctions, it also catches problems when they're small and easily corrected.
If you skip maintenance…
You face a much higher chance of sudden equipment failure during a cold day. Losing heating can have a serious impact on your business' bottom line, and the cost to get the equipment working again is often high.
The heating system will start to age rapidly, and this will cause it to lose its energy efficiency. The drop can be 5% or more each year, and that translates into much higher energy bills.
The equipment may operate unsafely and put employees and others at risk. Not only that, but it can violate local codes.
You may need to replace heating systems years early. The estimated service life for a heating system takes maintenance into account, and you can slice that number in half if the equipment doesn't have regular maintenance.
You have many more repair calls for malfunctioning heating systems.
You may void the equipment warranty.
Let Us Take Care of Your Heating Needs
Regular maintenance is all benefit, all reward. We're the company you can trust to handle the complete services for your commercial heating system, as well as your entire commercial HVAC system. We're family-owned and have a 60-year track record.
Althoff Industries, Inc. has been Chicago's choice since 1961. Call us for heating maintenance today: Challenges accepted!