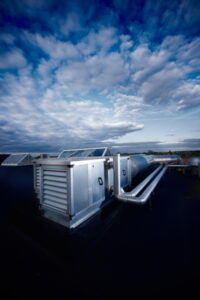 The standard air conditioning systems for commercial facilities in Chicagoland are packaged rooftop units, many of which are heat pumps that also provide heating during the winter. As we move into the fall, we recommend business owners assess the performance, condition, and age of their rooftop units so they can make decisions about whether it's time to have them replaced. If commercial air conditioning repair in Chicago, IL becomes too expensive, it's better to arrange early to have new rooftop units installed.
How long will rooftop air conditioning units last?
It's important to keep in mind how long your can expect rooftop AC units to continue work effectively. Make sure you check records so you know when the unit was last replaced, as well as records of service and repairs. The average service life expectancy of rooftop units is around 15 years, although other factors can affect this. If the unit hasn't received regular maintenance, the life expectancy will drop.
Now that you know the age of the rooftop unit(s), you can approach the question of replacement with a sharper focus. The older the system, the more likely other issues with the unit will point toward a need to replace it.
Has cooling performance suffered this summer?
Did you run into issues with cooling in your business or facility over this last summer? These troubles can include uneven cooling and rises in humidity. If the answer is yes, then we recommend you call our technicians to check the systems. If the units are still under 15 years, it's possible we can cost-effectively repair them. For systems 15 years and older, cooling performance failures often warn that the units are beginning to fail. Our technicians can tell you when repairs are not an economical option and it's better to invest in a new unit.
Have energy costs risen recently?
One of the strongest signs of a failing rooftop air conditioning system is when it begins to drain more power than usual to run. This often indicates problems with refrigerant leaks or parts that are simply too worn down to operate efficiently. Compare your summer utility bills to previous summers: if there's a noticeable rise in costs, and you can't account for it with an increase in energy costs or energy consumption, it's time to give serious thought to replacing the unit. If you have a building automation system, it can help you determine where the energy is going so you'll know what action to take.
Can you hear more noise from the AC?
This sign is a tricky one because one of the reason for having rooftop air conditioning units in the first place is to remove the noise they make from near the work area. However, if your facility is small enough, you may be able to hear a rise in the noise from the air conditioner. In some cases, you may be able to detect the increased noise coming through the ductwork. When an AC starts to make more noise as it runs, it usually means the system is worn down past the point where repairs can do any good.
If you have any donuts about your rooftop air conditioning units or just need questions answered, reach out to our team.
Arrange with Althoff Industries, Inc. to help with your commercial air conditioning needs. Challenges Accepted!