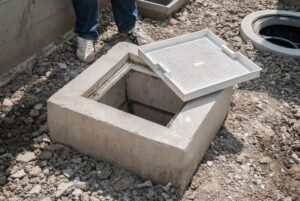 When it comes to commercial plumbing in Chicago, IL, Althoff Industries is one of the most trusted names. We've served businesses in the area since 1962—we've literally seen it all and we've handled it all.
Among our most important commercial plumbing clients are restaurants. Any food service company requires the best in licensed plumbing work to keep it up to local codes. Mistakes from inexperienced or unlicensed contractors can end up shuttering a business. It's our job to help your food service establishment not only stay up to code, but have a plumbing system—freshwater and wastewater—that works smoothly and creates few troubles for you.
Below are some of the vital services we can provide to help your restaurant with its plumbing.
Booster Pumps
Low water pressure is often a problem for many commercial and industrial buildings, and low pressure is especially an issue for a restaurant that depends on water pressure for proper cleaning and operation of dishwashers and other appliances. If your restaurant or other food service establishment doesn't have sufficient water pressure, we can install a booster pump to solve the problem.
Grease Traps
Grease traps are necessary for restaurants to remain up to code. These traps prevent large amounts of grease that go down drains from entering into the municipal sewer system where they can cause extreme clogging that affects many homes and businesses. Grease traps require routine cleaning from professionals, and they also need occasional repairs. Aging grease traps will eventually need replacement, and you can depend on our team to ensure you have the grease traps that keep your business code compliant.
Backflow Prevention
The cross-connection points in the plumbing of a food service company require having a backflow prevention device to stop wastewater from moving the wrong direction into the plumbing and leading to freshwater contamination. This contamination can spread to the freshwater for other facilities as well, so it's necessary for any business to have routine backflow prevention testing. We offer this service and can help out if your restaurant requires new backflow prevention repair. Call us when you receive a city notification that you must show proof of backflow prevention testing.
Drain Cleaning
Cleaning drains is not just a reactive job, it's a proactive prevention method that can help you avoid nightmare problems in the middle of a busy work day. We strongly recommend any restaurant create a schedule for regular drain cleaning during the year: how often depends on your establishment's size and how busy it is. We use powerful hydro-jetting equipment to fully scour the inside of drains to remove tough build-up from fats, oils, grease, and hard water minerals. Once we've finished drain cleaning, you'll have drain pipes in like-new condition. Not only will you avoid clogs, but you'll prevent foul odors and issues with drain flies and other unsanitary problems.
And More…
This is only a selection of the plumbing services we offer restaurants. We handle new piping installation, work with gas pipes, leak detection services, service for ejector pumps, and much more. When you work with us, you can rest assured that our team is up to any challenge.
Reach out to Althoff Industries, Inc. for all your restaurant plumbing needs or other commercial plumbing jobs in Chicagoland. Challenges Accepted!