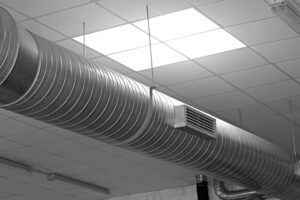 Proper ventilation is an essential part of commercial and industrial facilities. It's often easy for facility managers and business owners to overlook high-quality ventilation installation in Chicago, IL for their businesses: often they're focused on the heating and air conditioning parts of "HVAC." But proper ventilation systems not only ensure circulation of air to effectively distribute heating and cooling and the removal of harmful contaminants to the outside, they also help prevent a major air quality problem many buildings face: negative air pressure.
What Is Negative Air Pressure?
The simple description of negative air pressure is when the air pressure in one area (specifically inside a building) is lower than an area adjacent to it or surrounding it. A building or room has negative air pressure if its pressure is lower than the air outdoors or in the rooms around it.
Negative air pressure in buildings occurs for several reasons. The ventilation system may be sending too much air through the exterior of the building without replacing enough of it. Equipment inside the building, such as combustion equipment, can use up enough air to create an air deficit. Faulty ventilation systems are a common cause of negative air pressure, such as air leaks in the vents or faulty fans and fan motors.
Why Is Negative Air Pressure a Problem?
Negative air pressure is the source of several problems for a commercial or industrial facility:
It places additional stress on the HVAC system, leading to a drop in system efficiency and higher bills.
Uneven cooling and heating will create hot and cold spots around the building. This happens because of the disruption to airflow.
The low indoor pressure will cause more outdoor pollution and debris to be pulled inside the facility. This will lead to low indoor air quality that affects the health of workers, clients, tenants, etc.
It speeds up the process of corrosion because it draws moisture into the walls. In general, negative air pressure will increase the humidity inside a facility.
What Can Be Done About Negative Air Pressure?
If you notice signs of negative air pressure in your commercial or industrial facility, the best step to take is to call our technicians to analyze the situation and find out its source. We specialize in solving problems, not just providing cosmetic fixes. We'll track down the reason(s) for the negative air pressure and then find a permanent solution.
For example, to handle a deficit because the ventilation system is removing too much air to the outside, we can install make-up air units. These devices are designed specifically to address pressure imbalance in buildings and allow for fresh-air circulation.
Another common solution to this problem is repairing and upgrading the ductwork. We can locate any leaks in the ducts and effectively seal them up. If we find that an out-of-date ventilation system is at fault, we can replace it with a newer design. We handle many types of exhaust systems and we know how to keep your facility up to local codes.
Althoff Industries, Inc. has been Chicago's choice since 1961. Call us today—Challenges Accepted!